Fresh From Your Local Farmers Market
Pork Medallions...



Just another little something we whipped up in the demo kitchen earlier - this one is our Pork Medallions with Fig & Ginger Gravy! It's really quite delicious and available as a Farmers Market recipe - just jump on the recipes page or click here and you'll find it among the other gorgeous recipes!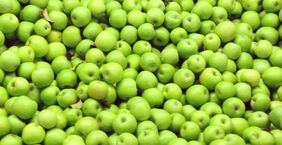 SW Grown Apples...

Did you know we've never sold an apple grown outside the Southwest region of WA! You'll find a delicious range of apples direct from Tassone's and Omedei's orchards. We have Pink Lady's, Granny Smiths, Royal Gala and Fuji's so there's bound to be an apple to suit your tastes... so, what's in your fruit bowl or fridge at the moment? :o)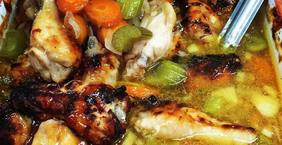 Sweet & Sour Chicken...

Here's a little something we rustled up in the Farmers Market demo kitchen - it's our Sweet & Sour Chicken Wings... Looks good huh? Tastes good too, I can tell you! And all you have to do if you fancy cooking this up at home is to click here for the ingredients & cooking method... simple! :o)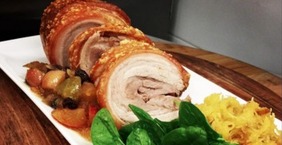 Pork Belly...
Roast Rolled Belly Pork with Spaghetti Squash and Apple & Raisin Chutney to be exact... sounds like something your waiter might say whilst recounting specials at a fancy restaurant but it's actually just another delicious demo dish from the clever cooks at the Farmers Market! Click here for the recipe...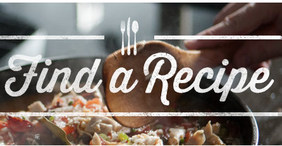 Find Your Fav Recipe Here...
If you want to find your favourite BFM recipe, simply type a keyword in the box below & click the button!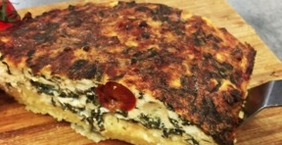 Polenta & Spinach Bake...
Here's one we prepared earlier! This is the Polenta & Spinach Bake we whipped up in the demo kitchen and which went down rather well. If you didn't get to try it at the Farmers Market why not try whipping it up at home... it's super simple when you know how! Just click here for the recipe...

I drive from Mandurah to purchase your fresh produce, it's so good!!!!! Love it!!

Jodie Miles

,

Out-Of-Town Fan
"
Just have to let you know your staff are so helpful. It's very helpful to mums like me who find shopping with the kids hard enough. Thanks for the great customer service (and your lovely fresh produce)

"

"What a great page, I should look at this after Dinner not before."
Russell Horlin,

Facebook Friend